Yacht Charter Gocek
Yacht Charter Göcek; All kinds of yachts that are available such as gulet, motor yacht, and sailing boat. Göcek is the best option for private yacht charter & Blue Cruise
YACHT CHARTER GOCEK
Yacht charter Göcek is one of the best options for having a memorable vacation in Turkey. Gocek is a small town in the Fethiye area in the province of Mugla, Turkey. Four essential berths in Gocek serve yachting tourism in the region. A characteristic feature of the city is the fact that it has islands and bays, located in a large and secluded bay. Due to its location, it naturally has a high potential for the yacht charter. Since Gocek is a registered area of ​​special protection, where multi-story buildings are not allowed, boarding houses are two-story hotels, motels, apart-hotels, and boarding apartments located in the city center and its periphery. Gocek has all the necessary infrastructure, capacities, and spaces expected in the tourist center. Still, it is known as a much more peaceful and quiet settlement in comparison with other areas of tourism.
Gocek is located on the highway Dalaman - Fethiye. Until 2006 it was necessary to drive along a relatively narrow and winding road to get to Gocek from Dalaman. The length of the Gocek automobile tunnel, 980 meters long, completed in June 2006, significantly increased the availability of the city. The car tunnel is the first example of a build-operate-transfer model and provides paid services.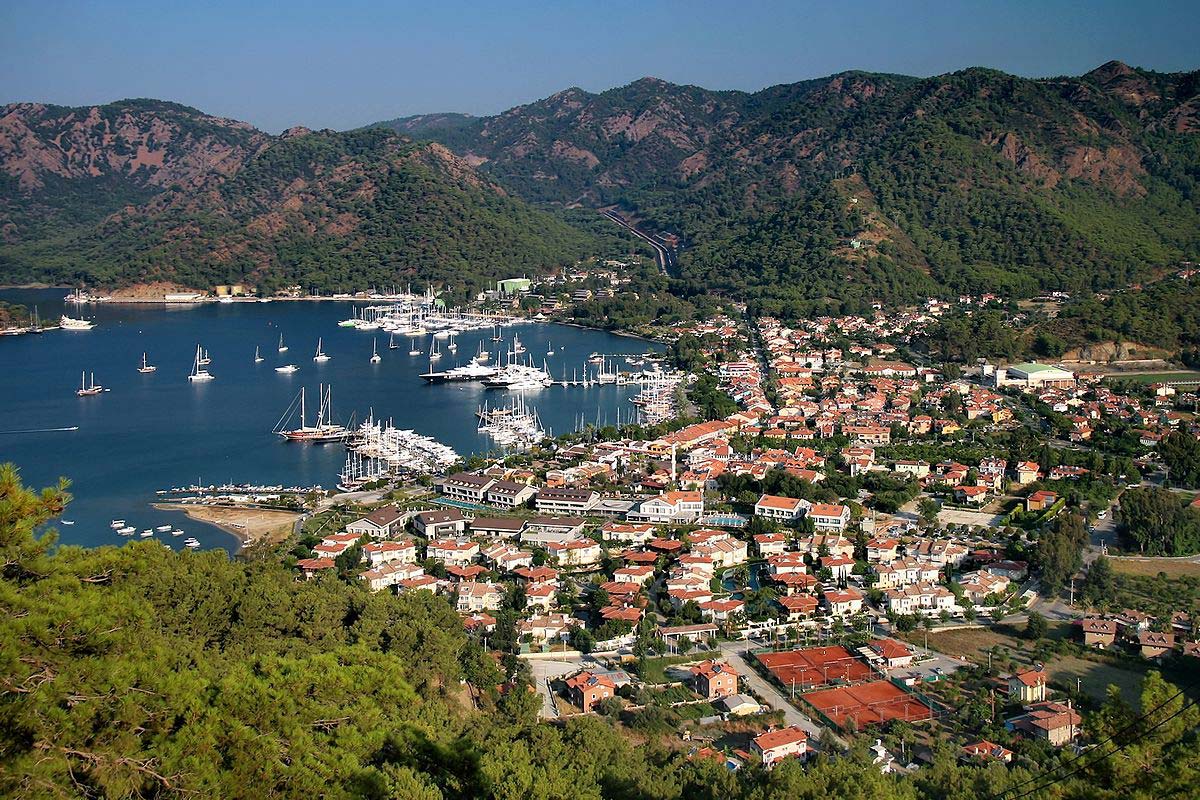 Gulet Cruises Göcek Turkey
The permanent population in Gocek is about 4,500 people. This number exceeds 7,000 during the summer months. Since Gocek is the point of departure and arrival for Gulet Cruises, there is a lot of traffic in the city. With its secluded bay, Gocek is a quiet and safe harbor, especially for long-distance travelers arriving from international waters. Gove Bay and 12 islands, which are described as a hidden paradise, with pure Mediterranean water, green pine forests, and beaches, made Gocek an indispensable place for gulet charter and blue cruise. High-quality boarding houses, daily boat tours, entertainment facilities on the coast, and numerous beaches and bays in the surrounding area provide various alternatives to local and international tourists traveling along the road to spend their holidays.
Gocek became known by a group of artists and poets and some fishermen from Bodrum, traveling along the Turkish turquoise coast, later called the "Blue Cruise."
This region was declared an exclusive nature protection zone with strict construction norms in 1988.
In Gocek Bay and Fethiye, there are many opportunities to visit cultural sites such as Kaunos, Telmesos, Fethiye Museum, Tlos, Pynara, Letoon, Xanthos, and Patara.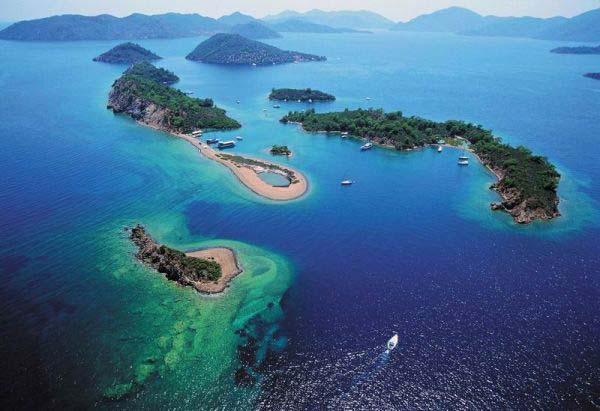 About Göcek
There are many restaurants, cafes, and bars on the waterfront.
Guests come to Gocek or yachts and boats in the harbor or boutique hotels and villas in the region. It is a mixture of all nationalities, not included in the concept of "package tourism." Therefore, the provided services are related to quality, but not to quantity.
Gocek is the gateway to the beautiful unspoiled islands in the bay. Since Gocek is a sailing base, there are four berths and one boatyard. The marinas are called: D-Marine, Marine Turk, Club Marina, Skopea Marina, the municipality of Marinas.
There will be the construction of the fifth pier for mega yachts, as well as the construction of a second boatyard soon. There is one beach owned by the Swiss Hotel, which you can enter by paying a daily price or getting a seasonal membership. Gocek Hotel is located in Inlice Beach, a 10-minute drive from Gocek Municipality.
Also, the main beach of the island can be reached by a water taxi from the harbor.
Gocek settled in a position that you can make on the Twelve Islands Tours by all kinds of boats that are available for private charter, simple fishing boats, and wonderful yachts - something that fits in every budget.
There are about twenty sailing and motor yachts and brokerage companies that make Gocek an upmarket place for sailing. Accordingly, there are several technical services and maintenance services for yachts and maintenance services.