Yacht Charter Gocek
Unforgettable experiences await you with a yacht charter in Göcek, Turkey! Gocek yacht charter prices, best gulet yachts and routes from Göcek. Tips for the best gulet rental experience
Unforgettable Experiences Await You with Yacht Charter in Göcek, Turkey!
All You Need to Know About Göcek Yacht Charter and Gulet Charter Gocek
Are you looking for an unforgettable experience? Then why not try a yacht charter in Göcek, Turkey? Göcek is a beautiful coastal town located in the southwestern part of the country. It is a popular tourist destination, offering a wide range of activities and attractions. From historical sites to incredible boat tours, there is something for everyone in Göcek. And if you want to take your experience to the next level, you can charter a yacht and explore the stunning coastline.‍
What's more fun than having a vacation with your friends and family? Getting to cruise around the turquoise waters of the Mediterranean while sipping on cocktails, of course! If you're looking for an experience like that, then you should consider taking a yachting vacation in Turkey. It is one of the most beautiful locations to rent a gulet or charter a yacht. Particularly if you want to explore the stunning coastline of Lycia. The Göcek Peninsula has some of the best anchorages for cruising yachts around this area. Whether you are interested in going on a Gocek yachting trip with friends or family, keep reading to learn everything you need to know about renting a gulet, chartering a yacht, and Gocek as your destination.
Where is Göcek Located?
Göcek is situated on the Gulf of Fethiye, which is part of the Mediterranean Sea. The town is known for its stunning natural beauty, including lush forests, stunning beaches, and clear blue waters. Göcek is also home to a variety of wildlife, including sea turtles and dolphins. In addition, the town is a popular destination for sailing and yacht chartering, offering some of the best sailing conditions in Turkey.
Gocek is located on the highway Dalaman - Fethiye. Until 2006 it was necessary to drive along a relatively narrow and winding road to get to Gocek from Dalaman. The length of the Gocek automobile tunnel, 980 meters long, completed in June 2006, significantly increased the availability of the city. The car tunnel is the first example of a build-operate-transfer model and provides paid services.
Göcek Yacht Charter Prices
Göcek yacht charter prices vary depending on the type of yacht you choose, the length of your charter, and the season you are travelling in. Generally, the longer your charter, the cheaper the cost per day. Additionally, the time of year you choose to travel can also have an impact on the price. The high season is typically June to September, and prices can be higher during these months due to higher demand.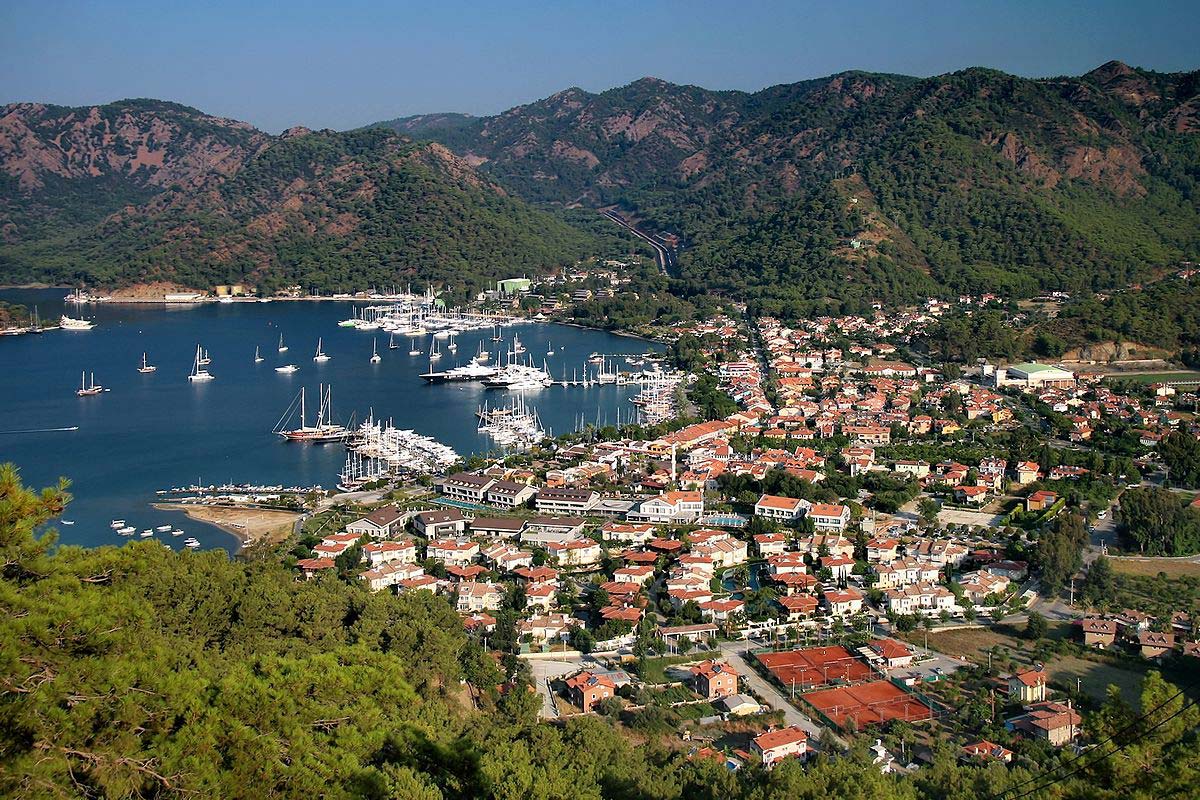 Best Yachts for Charter in Göcek
Göcek offers a wide range of yachts for charter, from small sailing yachts to large motor yachts and gulets. Luxury motor yachts offer the perfect option for those looking to explore the coastline in style. These yachts are equipped with all the amenities you need for a comfortable stay, including air conditioning, spacious cabins, and top-of-the-line electronics. For those looking for a more laid-back experience, sailing yachts provide a great opportunity to relax and take in the stunning scenery.
Luxury Gulet Charter in Göcek
If you want to experience the ultimate luxury experience, then why not consider a luxury gulet charter in Göcek? A gulet is a traditional wooden Turkish yacht, and it is the perfect way to explore the stunning coastline of Göcek. Gulets are typically equipped with spacious cabins, a lounge area, and a fully-equipped kitchen. You can also choose to add extra amenities such as a jacuzzi or a waterslide.
Yacht Charter Routes from Göcek
Göcek is ideally located for exploring the stunning coastline of the Mediterranean Sea. Some of the most popular yacht charter routes from Göcek include cruising around the Gulf of Fethiye, sailing to Marmaris, Bodrum and the Greek island of Rhodes, and exploring the hidden coves and bays in the surrounding area. No matter which route you choose, you are sure to be mesmerized by the stunning scenery and crystal-clear waters.
How to Book a Yacht Charter in Göcek
Booking a yacht charter in Göcek is easy. The best way to do so is to contact with one of our charter specialists. They will be able to help you find the perfect motor yacht, gulet or sailing boat for your needs, as well as provide all the necessary information about the area. Additionally, they can also provide you with a professional crew to ensure you have a safe and enjoyable experience.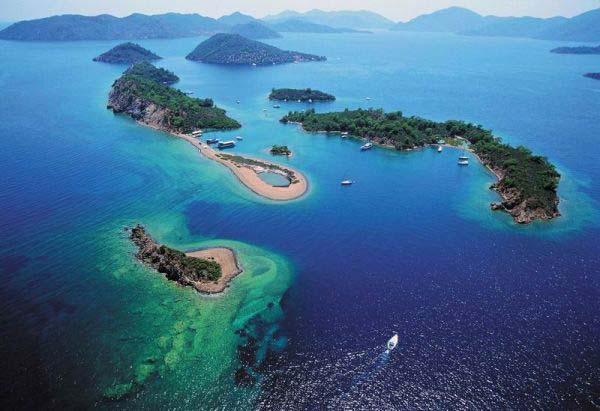 Tips for Enjoying the Best Yacht Charter Experience in Göcek
To ensure you have the best experience possible, there are a few tips to keep in mind when chartering a yacht in Göcek. First and foremost, make sure to book in advance. Yacht charters in Göcek can be in high demand during the peak season, so it's important to book ahead of time. Additionally, it's a good idea to research the different routes and attractions in the area before you go. This will help you make the most of your time on the yacht. Finally, make sure to bring the right supplies. Additionally, make sure to bring sunscreen, as the sun in Göcek can be pretty intense.
Luxury Yacht Charter In Göcek
Göcek is the perfect destination for an unforgettable yacht charter experience. From the stunning scenery to the wide range of activities and attractions, Göcek has something for everyone. And with the help of a local charter company, you can be sure to have the best experience possible. So, if you're looking for an unforgettable experience, then why not consider yacht chartering in Göcek, Turkey?
About Göcek
Gocek became known by a group of artists, poets, and some fishermen from Bodrum, travelling along the Turkish turquoise coast, later called the "Blue Cruise."
This region was declared an exclusive nature protection zone with strict construction norms in 1988.
There are many opportunities in Gocek Bay and Fethiye to visit cultural sites such as Kaunos, Telmesos, Fethiye Museum, Tlos, Pynara, Letoon, Xanthos, and Patara.
There are many restaurants, cafes, and bars on the waterfront.
Guests come to Gocek or yachts and boats in the harbour or boutique hotels and villas in the region. It is a mixture of all nationalities, not included in the concept of "package tourism." Therefore, the provided services are related to quality but not to quantity.
Gocek is the gateway to the beautiful unspoiled islands in the bay. Since Gocek is a sailing base, there are four berths and one boatyard. The marinas are called: D-Marine, Marine Turk, Club Marina, and Skopea Marina, the municipality of Marinas.
There will be the construction of the fifth pier for mega yachts, as well as the construction of a second boatyard soon. There is one beach owned by the Swiss Hotel, which you can enter by paying a daily price or getting a seasonal membership. Gocek Hotel is located in Inlice Beach, a 10-minute drive from Gocek Municipality.
Also, the island's main beach can be reached by water taxi from the harbour.
Gocek settled in a position that you can make on the Twelve Islands Tours by all kinds of boats that are available for private charter, simple fishing boats, and wonderful yachts - something that fits in every budget.
About twenty sailing and motor yachts and brokerage companies make Gocek an upmarket place for sailing. Accordingly, there are several technical services and maintenance services for yachts and maintenance services.
Things to do in Gocek
While you are in Gocek, you might as well make the most of your time and try out some activities. Here are a few suggestions to keep you busy during your stay:
- The Fethiye Museum is located in the nearby town of Fethiye and preserves the area's history.
- The Blue Lagoon: This is one of the most famous landmarks in the region and is a must-see attraction while you are in Gocek.
- Pamukkale: If you want to visit another nearby town, Pamukkale is well worth the trip. This site is famous for its cascading waterfalls and is a great place to visit during the day or at night.
- Dalyan Floating Village: If you want a unique experience, visit this traditional Turkish village built on stilts. You can even enjoy a Turkish massage here!
- The Archaeological Museum of Fethiye: If you are interested in learning about the region's history, this museum is a great place to start.
- The Butterfly Valley: This is an exciting attraction that is close to Gocek and is a great place to enjoy nature in the area.