Yacht Charter Mykonos
Find your dream yacht for charter in Mykonos from our 1400 selected yachts. Best rate guarantee for Mykonos yacht charter with mega yachts, motor yachts, gulets and sailing yachts.
Luxury Yacht Charter in Mykonos
All year long, Mykonos luxury yacht charters are the destination of choice for jet sets, blending picture-perfect beaches, ancient landmarks, and vibrant nightlife. Mykonos provides the ideal setting for a sophisticated and memorable Greek experience for fashionistas, beach-dwellers, and those wishing to be pampered.
A Mykonos luxury yacht charter is a great way to explore the Greek island.
The glitz and glamour of Athens are reflected in its glamorous blue seas, which are complemented by the colourful little villages. Mykonos has earned itself the nickname 'Capri of Greece' because of its 300 days of sunshine and the glitz and glamour of Athens. Mykonos is the most well-liked charter destination in the Cyclades, sitting between Athens and Crete. In June, the weather is ideal for a summer yacht charter. July through September is the finest time for one.
Rent a yacht in Mykonos.
A Mykonos luxury yacht charter may include a tour of historical landmarks, including Chora's Venetian windmills and Little Venice's traditional fishing houses. These beautiful reminders of Mykonos's past civilizations, which interweave culture and natural beauty to capture the romance of a Greek yacht charter, are perfect for touring.
Charter itineraries in Mykonos.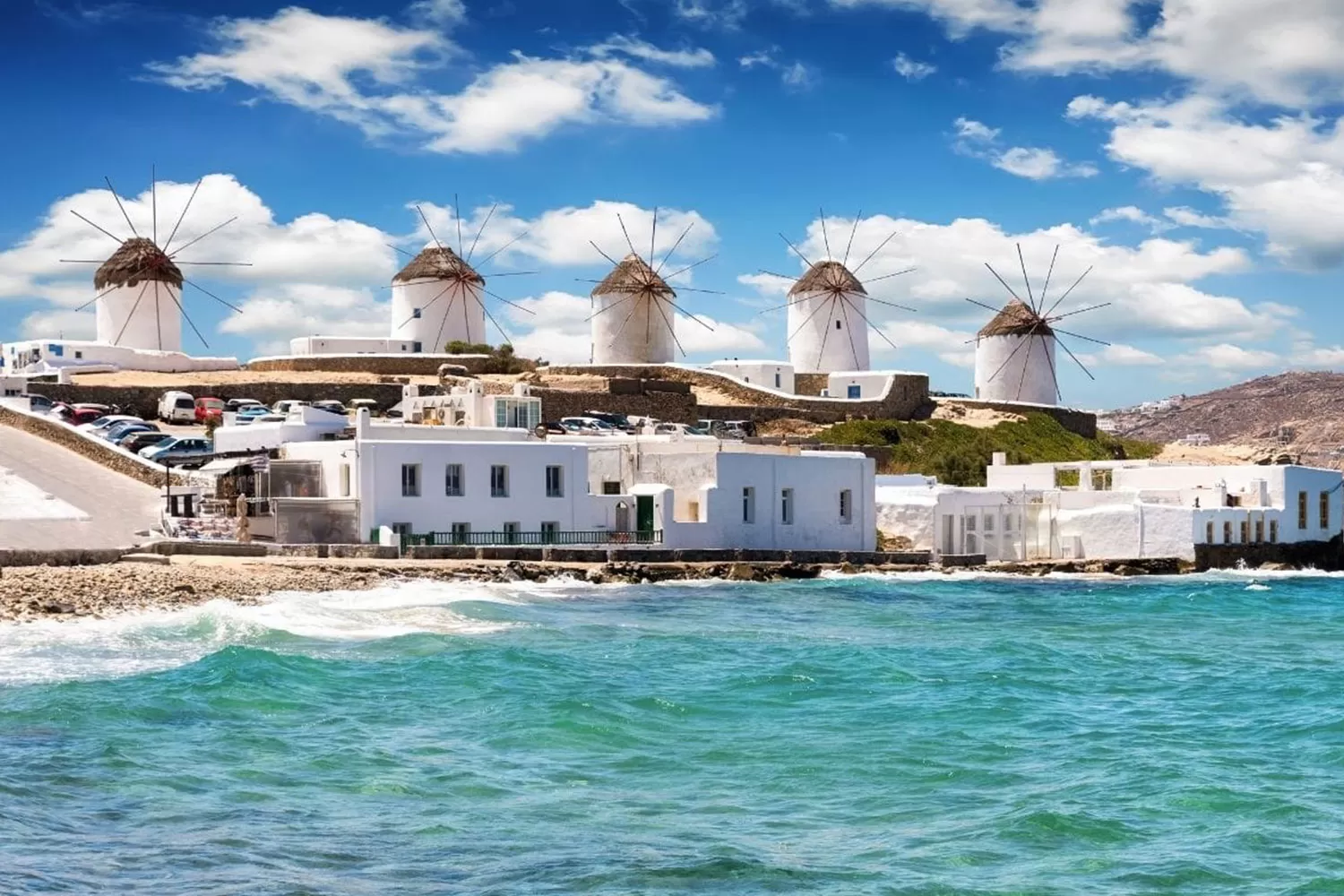 Mykonos is one of the most famous Cycladic islands, so visiting Santorini or Naxos while on a Mykonos yacht charter is a great idea. The Cyclades are a group of islands in the Aegean Sea renowned for their distinctive personalities. Mykonos is especially well-known among yacht charters in the summer when its lively nightlife really comes to life.
If you want to create the perfect Mediterranean charter itinerary for your party, please contact your preferred Yacht Charter Broker in Mykonos. They can assist you in planning a charter itinerary and offer expert advice on visiting the island.
About Mykonos
The mention of enchanting Mykonos island brings to mind hedonistic indulgences, sublime beaches, and a cosmopolitan atmosphere, all of which continue to make it one of the most exciting and popular islands in the Mediterranean.
Famous for its glitzy party lifestyle, this world-famous island is set amongst the idyllic Cyclades archipelago.
Mykonos has just as much natural beauty and traditional Greek scenery as the glamorous and shimmering heart of the island. The north villages, on the other hand, provide a more secluded, quiet environment. You may escape, indulge, and delight in the excellent eateries and bars there.
Little Venice is one of Mykonos' most well-known destinations, principally due to its bar and restaurant-lined waterfront and five windmills on the skyline.
The crescent bay lined with charming fishing boats and stylish bars and restaurants of Chora's main village has long been a favourite of SuperyachtSet, who spend their summers wandering through the cobbled streets and taking in the sunset views from their luxury vessels.
Rhenia Island and Delos are close to the coast and provide a more laid-back alternative to the restaurants and bars lined up along the historical streets of Mykonos. Because these destinations are uninhabited and can only be accessed by boat, they offer a distinct contrast and unique experience for charter visitors.
Mykonos is a great place to stop off for a summer of hedonism or an enjoyable escape later in the year as part of a Greece luxury yacht charter itinerary, which includes a number of cultural events.
If you want to rent a Greece Luxury Yacht Charter in Mykonos and the surrounding Greek islands, you can view all yachting vacation options here.
Explore Chora
Mykonos town, known as Chora, is a Cycladic village built in an amphitheatrical manner, with winding streets leading to the sea. Cycladic architecture is featured here, with white-washed cubic houses contrasting beautifully with their coloured wooden doors and windows. Because pedestrians may only pass through the heart of the town, walking through the maze of streets is especially pleasant.
Mykonos Downtown
Chora is home to several bars, cafes, nightclubs, jewellers, and chichi stores. Iconic landmarks include the 16th-century windmills and Little Venice, where one can dine on the famous melon daiquiri Katerinaki at Galleraki Bar. Sea Satin Restaurant, located just below the town's windmills, serves a traditional Greek dinner and has tables for dance. Mykonos is renowned for its vibrant nightlife. Visitors can go to cosier pubs in addition to massive clubs that draw world-famous DJs and keep going until the early morning hours.
Discover Mykonos
Ornos Bay is an excellent spot to anchor your yacht and explore Mykonos. Kalo Livadi, Elia Beach, and Psarrou are among Mykonos's most popular and beautiful places. One of the island's most picturesque restaurants, Kiki's taverna, is located at Agios Sostis Bay. Super Paradise is the spot to be if you want to party all day. Nammos Restaurant by the Sea at Psarou is another 'it' place on the island; guests can enjoy a tasty lunch which will turn into a night of partying and dancing.
Delos & Rineia
There are magnificent white sand beaches and clear turquoise waters just a short boat ride from Mykonos. Rineia, a tiny, uninhabited island, is the perfect place to snorkel or hike to the ancient ruins of a Greek village. Those who love history may wish to visit the nearby island of Delos, which may only be accessed by boat. Delos is the birthplace of Apollo and is home to some of Greece's most significant archaeological sites.
Please get in touch with your preferred Yacht Charter Broker in Mykonos to learn more about renting a private luxury charter yacht. Using their expertise, they can assist you in planning the ideal Mediterranean charter itinerary for your group and provide expert advice on visiting the island.