Yacht Charter Hvar
Yacht charter Hvar. Hvar is Croatia's brightest island, and chartering a motor yacht, superyacht, or gulet rental is the most luxurious way to experience it.
Hvar Yacht Charter Guide
Hvar is a great starting point for exploring Croatia's numerous small islands and harbours. Sailing south, Montenegro and Albania are often neglected but excellent destinations.
Hvar is Croatia's brightest island, and chartering a motor yacht, superyacht, or gulet is the most luxurious way to experience it. From Split's capital city, you will cruise through crystal clear blue water to this stunning island on a luxury yacht charter.
The islands of Croatia are home to charming, romantic towns situated among shady green mountains covered with olive groves. The colour of the cliffs turns purple over the summer as the lavender fields, which are famed for their cheerfulness, bloom in one of Croatia's most bright spots. You can be seen on this island by chartering a luxury yacht or gulet. The most discerning celebrity crowd is known to flock to the island's excellent wineries, designer boutiques, and summer parties by gliding into the modern marina and exploring them. Scooters and pedal bikes can be rented to discover the island's fantastic scenery and great cuisine, and then you may retire to your private yacht to enjoy a cocktail on the deck and watch the famous Croatian sunset.
Choose one of the many quality restaurants to dine at after enjoying the scenic streets of Split. Make sure to try a traditional glass of Croatian red wine.
Hvar is a lovely place to cruise throughout the year, with warm spring and winter temperatures. With average temperatures of 25°C/77°F in June and July, this island is one of Croatia's sunniest spots.
Hvar's secluded beaches are as lovely as any in Croatia. Take your yacht to one of the sandy spots, moor, and splash in the clear water. Uvala Dubovica is one of Hvar's most popular spots, thanks to its white pebbled shore. The Pakleni archipelago is renowned for its excellent snorkelling. Explore the rocky islets and hidden coves on a dinghy. Take a stroll through the charming villages brimming with Croatian history and culture.
Hvar is a must-visit destination for any Croatian luxury yacht charter vacationers departing from Split and Dubrovnik. This beautiful isle is a real gem in Croatia's crown.
May to October is excellent for the blue cruise, and the off-season is quite mellow and pleasant.
The country's many small islands and harbours are the perfect starting point for exploring Croatia's coastline. Sailing south, Montenegro and Albania, which lie next to them, are often forgotten but make for excellent destinations.
More About Hvar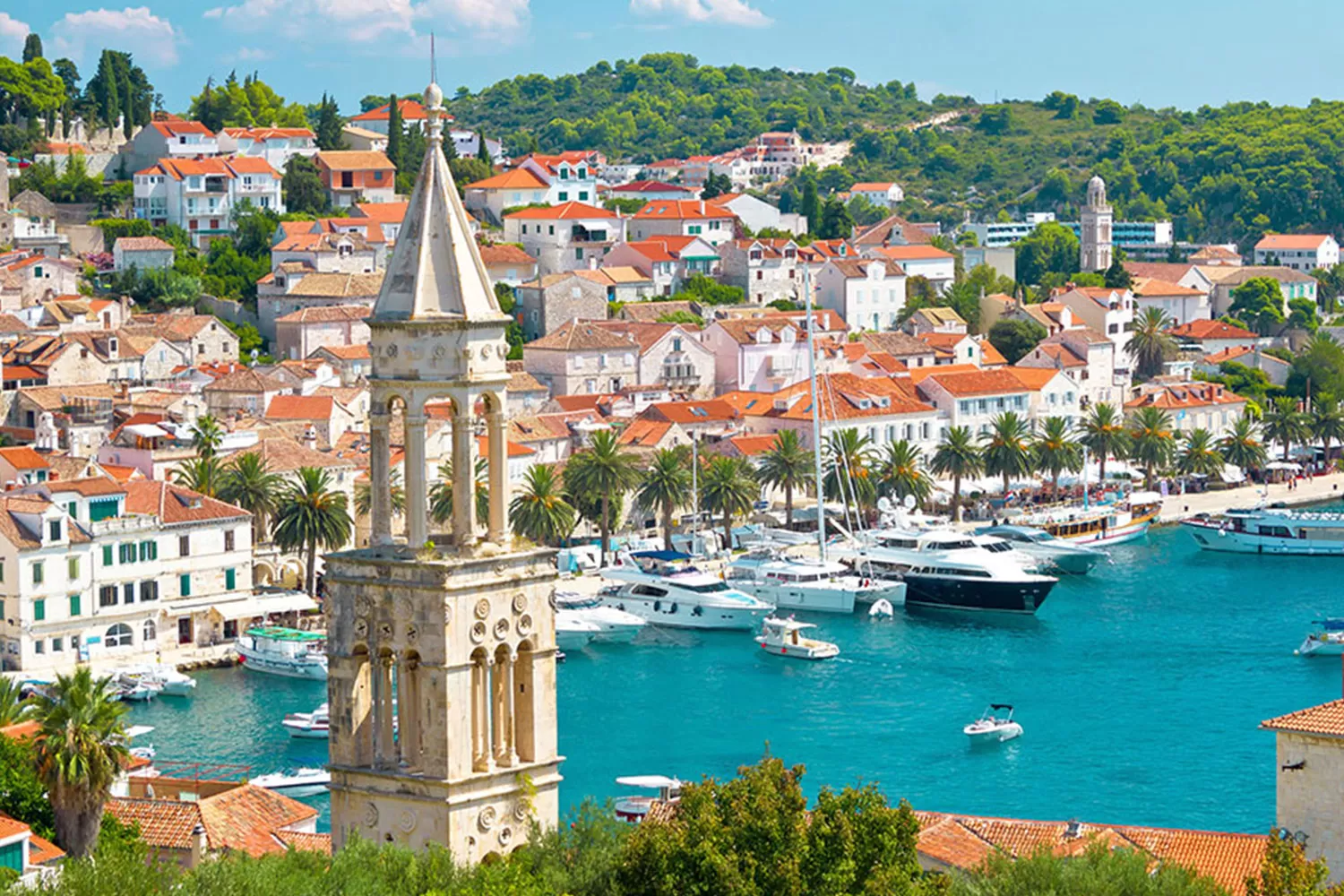 Hvar is one of the largest islands on the Dalmatian Coast, and it is also in an excellent location to include when taking a Croatia luxury yacht charter to include Venice or the Istrian Coast, or southern Dalmatian Coast destinations such as Dubrovnik.
Many superyacht charterers travel to Montenegro and Greece on a two-week itinerary that covers the area's rich and tumultuous history, wonderful food, and family-friendly beaches where you can play on water toys without being disturbed.
Hvar Town is the hub of the bar and club scene and one of the most famous landmarks on the island, the 15th-century Franciscan monastery and museum that overlooks a secluded cove and the 300-year-old cypress tree growing in its gardens. You can begin your luxury yacht charter with a bang by visiting the monastery and museum, which was established in the 15th century by a renowned Korcula family of stonecutters. Matteo Ingoli, a Venetian artist who completed 'The Last Supper in the last decade of the 16th century, painted a remarkable 8-foot-by-2½-foot artwork on the wall.
Those who love history and art should also visit the Vukasinovic Palace, which has seven balconies and an impressive entrance, or the Gargurovic Palace, which was constructed in the 15th century.
The square named after Saint Steven is one of the oldest squares in Dalmatia and is near the marina. St. Stjepan's Cathedral, which has a bell tower standing four stories high, provides a picturesque backdrop. It was built in the sixteenth and seventeenth centuries to replace the previous church, which the Turks had destroyed.
The Spanish fort Tvrđava Fortica, interwoven into Hvar's bustling streets, has panoramic views of the harbour, its orange-tiled shops and houses, and the Archaeological Museum.
Pakleni Islands are the finest locations for paddle boarding and kayaking with your family on 'Sveti Klement,' the biggest island. After an exciting morning on the shoreline, rejuvenate your land instincts on a walk through the Palmizana Botanical Garden.
When you rent a luxury yacht in Hvar for a getaway, you may travel from destination to destination in style, luxury, and comfort. Croatia yacht rentals are becoming one of the most popular yacht charter and gulet cruise destinations in the Mediterranean, which is why you should choose to see this fantastic nation.
Our expert brokers can assist you with any Croatia yacht vacation queries you might have.